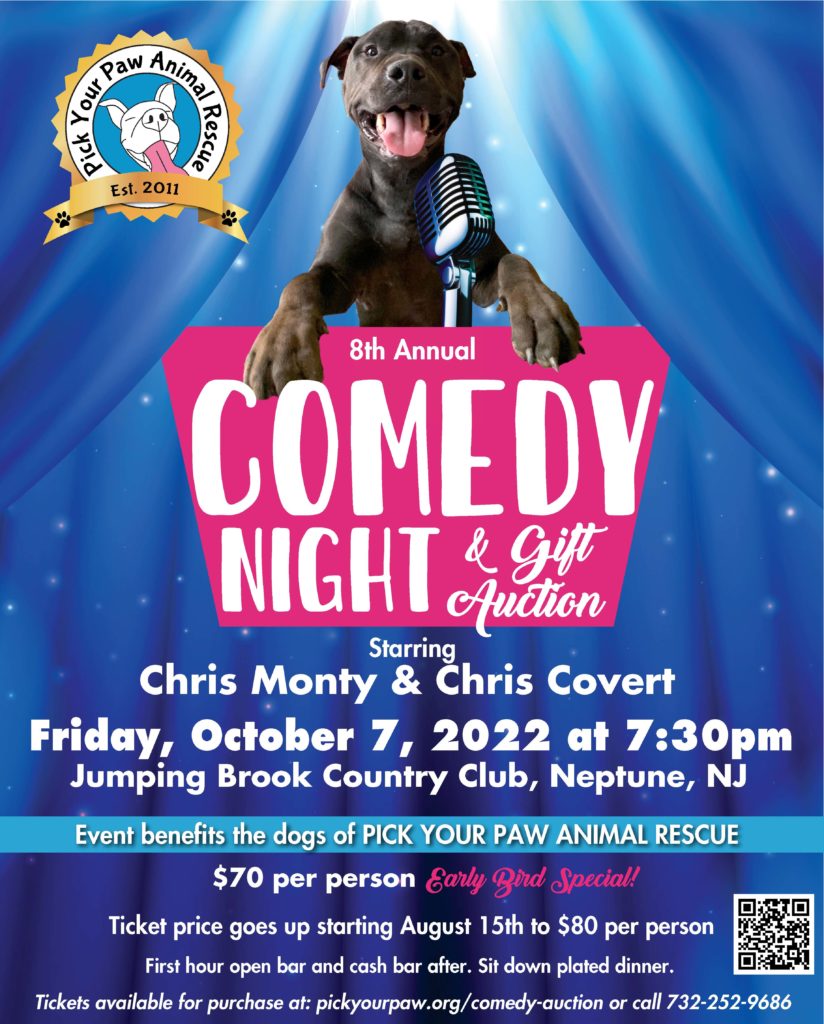 General Info
Date: Friday, October 7th, 2022
Time: Starts at 7:30 PM
Location: Jumping Brook Country Club, 210 Jumping Brook Road, Neptune, NJ 07753
Comedian: Chris Monty and Chris Covert
No tickets will be sold at the door.
Cost: $70 per ticket until August 15th at 11:59PM
Starting August 16th tickets are $80 per ticket.
**Each reserved table of 10 or more will receive a special gift per person.**
OPEN BAR 7:30pm – 8:30pm (wine & beer only)
Cash bar after 8:30pm
Plated dinner (choice of three entrees: beef, chicken, or vegetarian)
Sponsors

If you would like information on being Paw Sponsor, please contact us at pickyourpaw@gmail.com or call 516-848-4801.
What's New!
What's new you say….
While this years event will continue to include amazing gift baskets, a silent auction and a wine pull we will be adding new game of chance called The Rice Wealth Management Group Treasure Chest!
To play one simply buys a key(keys) to the chest and when all keys have been sold key holders will return to try their keys until one lucky someone unlocks the chest and claims the spectacular treasure hidden inside.
~Don't worry, our wonderful Gift Auction has not changed, but we did add a purchase option to buy a bundle "Mix Breed" package of Tricky Tray tickets in advance. So all you have to do is go to the Mix Breed Will Call Table to pick them up at the event.
The package includes:
2 Sheets of General Level tickets = 50 tickets
3 Door Prize tickets
5 Grand Prize Tickets
~ We have added a new Comedian Chris Covert.
~ We are also trying this year to get dinner out earlier for those of you who had asked not to eat so late.
~ Special this year only Tshirt/Sweatshirt merchandise for purchase. We will be excepting pre-orders on these clothing items. So you can order color and size you want. At the event, we only have limited color palate. Check back for the pre-order website.
~We will still have our Wine Pull, Silent Auction, and 50/50.
Menu
To Start
Tossed Garden Salad
Main Course
(please choose one of the following at time of purchasing each ticket to the event.)
-Boneless Breast of Chicken Prepared Francaise
-Sliced London Broil with Demi Glaze
-Vegetarian Meal – Pasta Primavera
Above Entrees served with Chef's selection of Starch & Vegetable
Fresh Baked Rolls & Sweet Butter
Dessert
Cookies and Brownies
Evening Itinerary
The below itinerary is a rough timeline. Just to help you have an idea of what to expect. We will make every attempt to open doors a bit early like in past years. Past years we have opened around 7pm.
7:30pm – Official Open Door time, Open Bar starts
Tricky Tray * Wine Pull * Treasure Chest * Silent Auction
8:15pm – Salads put out
8:30pm – Dinner Service starts & Open Bar Ends
9:00pm – Dinner raps up
~Opening remarks
9:15pm – End of: Tricky Tray, Treasure Chest, Wine Pull and
Silent Auction
Silent Auction Winners Announced
9:30pm – 1st Comedian – Chris Covert
10:00pm – 10:15pm – Announce Door Prizes & Last Call for 50/50
purchase
10:15pm – 2nd Comedian – Chris Monty
11:00pm – Start announcing Prizes
Again, this is a rough agenda and will change as the night progresses.
Other Forms of Payment
To pay by Credit Card/PayPal, please scroll to bottom of page and fill out the form and click to pay.
To pay via Venmo or with cash, please email events@pickyourpaw.org
We will make arrangements with you. Please follow instructions of the information we will need from you in the "Pay by Check" option. Please put that information in the email.
By Check: You can also purchase tickets by mail with a check for payment. Please email events@pickyourpaw.org or call us 732-252-9686 to let us know to expect the check.
Please include guest(s) name, meal choice for each person, a phone number to reach you at in case we have question and return address to mail the tickets to. Checks can be made payable to: Pick Your Paw
Please mail the above to: Pick Your Paw Animal Rescue
450 Shrewsbury Plaza #129
Shrewsbury, NJ 07702
Have other questions, email us: pickyourpaw@gmail.com or call 732-252-9686.
FAQ
1) Q: Do we have to buy a table of 10 to attend.?
A: No you do not. You can by individual seats/tickets.
2) Q: I have 10 friends who want to go but I do not want to lay out the money for all 10 to 12 of us to go. Can we pay separately and still get a reserved table?
A: YES you can all pay separately. HOWEVER, there has to be one person who is responsible to tell us what individuals are sitting at this table. There is also a spot on the form to mention the main persons name.
3) Q: How many people can a table hold?
A: The tables can hold a maximum of 12 people per table
4) Q: I want to get a table but do not know all who will be joining me yet. Can I still purchase it?
A: YES, you can. Just purchase the table, and let us know as your table comes together what each persons name and meal choice are. That information can be emailed to events@pickyourpaw.org
5) Q: A few friends want to go, can we still sit together?
A: YES you can. On the spot on the form where it asks if there is individuals or group you want to sit with. Just put each other names.
If you have any questions, please contact us at any of the following ways:  email – pickyourpaw@gmail.com or call 732-252-9686
Have other questions, email us: pickyourpaw@gmail.com  or call 732-252-9686.
**Sorry, tickets are non-refundable, but can be transferred to another person you designate. Pick Your Paw reserves the right to deny entry or refuse ticket purchase for entry to any attendee it deems appropriate.**